Canoeing the Pine Barrens
Though a desolate landscape, Philadelphians have long been drawn to the Pine Barrens of New Jersey for various reasons such as relaxation, trade, and industry.  The Marriott C. Morris collection of photographs includes views of amateur photographer Marriott C. Morris's travels to the Pine Barrens for leisurely activities.
In the above photograph, Morris takes pictures of those on his canoeing trip along side the slab-sheathed house, believed to be one of the oldest structures still standing in Atsion, potentially dating back to the industrial town's beginnings in the 18th century.  Today, what once served as a canal to power a nearby mill, this location is overgrown with foliage and is difficult to photograph, even on an early spring day (see below).  The house still stands but enhancements were once made to the back porch and accompanying outbuilding (the residence is now vacant).  Given the placement of the canoe in an area that most likely would not have been frequented by canoes, as it only served as a waterway to power the nearby mill, it appears this photograph was taken as a perfect photo opp where Morris could stand upon the nearby bluff while the canoeists posed in the calm waters.
Photographed on what seems to be the same canoeing trip, since both photographs are dated May 18, 1906 and the Mullica River runs past the slab-sheathed house, the photograph below shows the canoeists porting their canoes over fallen timber amongst the sparse pine barren scenery.  Given the vantage point of the photographer, it appears Morris may have been standing in the river or perhaps we cannot see the riverbank or fallen log from which he shoots.
These two Morris photographs show only a glimpse of views of the Pine Barrens represented by the Marriott C. Morris collection.  Interested researchers can also find images of Allaire, an historic mill town located in Monmouth County, as well as many photographs of the nearby New Jersey shoreline.  More information on the Morris collection can be found in a previous blog post I authored.  And stay tuned as we are excited to announce we will be embarking upon a mass digitization project to make the entire Morris collection available online in the coming years, thanks to a generous donation made by Marriott C. Morris's grandchildren David Marriott Morris, Eleanor Rhoads Morris Cox and William Perot Morris in memory of Marriott Canby Morris.
Nicole Joniec, Print Department Assistant & Digital Collections Manager
The Library Company of Philadelphia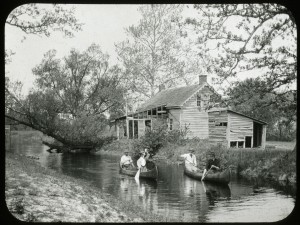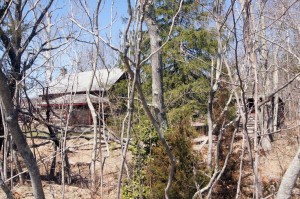 Modern photograph of Slab-Sheathed house taken on 4/6/2014 by the author